Social Tennis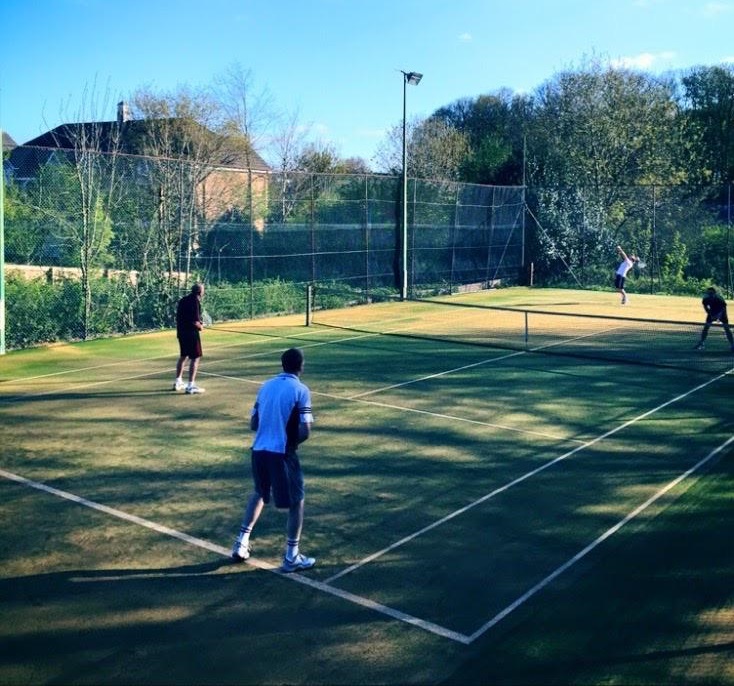 One of the best things about tennis is how much of a social sport it is. It allows us to not only get exercise but also meet people and make friends. The social tennis opportunities at Cleeve Hill include: Club nights/afternoons, family tennis, singles and doubles ladders, and tournaments.
---
Club nights/afternoons
Once you are a member, please contact us and request to be added to the WhatsApp groups of whichever sessions below interest you.
Tuesdays 5.30-10pm
Thursday 5.30-10pm
A chance for members to come along and enjoy playing doubles. The bar is open after and offers members special rates.
Wednesday Evenings
Currently available for bookings, this is the perfect time to play some box league matches. For more details on the box leagues, see the section below.
Saturdays 2-5pm
An opportunity for some daytime doubles and a catch up. Just turn up and join in!
---
Singles and doubles ladders
We are now running a singles box league and in the process of creating an internal doubles ladders too. This provides a chance for people to get even more tennis and to meet people if you are new to the club. If you are interested in joining this, please contact contact us.
---
Tournaments
We run a number of in-house tournaments for club members. These include:
Singles
These are mixed tournaments divided into a main draw and shield draw depending on ability. The main draw is open to more experienced players, while the shield is aimed at newer or less confident members.
Doubles
Every year there are men's, ladies and mixed doubles tournaments organised.
Alongside the annual club singles and doubles tournaments, we also run regular tournaments of a more relaxed nature that usually involve some form of handicapping or unusual rules to get everyone involved and give all entrants a fair chance.
NOTE: All organised tournaments run on Friday nights, Saturdays or Sundays and take priority, so make sure to sign up and enjoy some fun, competitive tennis. Communication regarding any tournaments will be published through our communication channels.
---
Court availability
Juniors have priority on all courts between 3 and 5pm weekdays, as well as Saturdays 9am to 2pm.
Adult members can book the courts through ClubSpark (via Court Booking) or using the Booker App which is available on both Android and iOS. Courts can be booked in one and a half hour slots.
Exceptions:
March/April to mid-July Mondays from 5pm all courts reserved for league practice.
May to mid-July Fridays from 6pm all courts reserved for league matches
Other events, such as National Club League, Winter League and organised tournaments will take precedence over normal availability and this will be communicated to members through our communication channels.
---
Visitors
Adult members may invite visitors to play at the club up to a maximum of 4 times per guest in any 12-month period for a fee of £3 per session. The member is responsible for signing in their guest, payment of the guest fee and ensuring that their guest complies with the rules and regulations at all times.